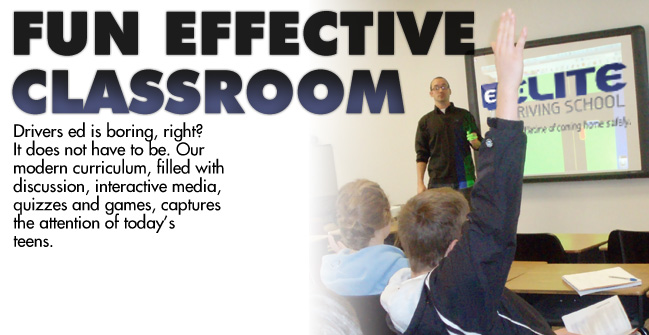 This is Elite Driving School
At Elite Driving School we are dedicated to offering you top quality, flexible, and fun driving instruction at a great price. We proudly serve Richfield, Minneapolis, Bloomington, Edina, St. Louis Park, Plymouth, Eden Prairie, St Paul, Eagan and the surrounding areas. We are easy to get to, and we will even pick you up from your home for Behind The Wheel (call for service area).
Driver's education is our passion. This is not a part-time job. We believe that learning to drive is about so much more than passing a test and getting your license. We want to prepare you for a lifetime of safe driving.
Classroom
We have designed our classroom schedule to fit into a busy teen's life. How it works is simple. There are 10 numbered classes (each 3 hours long) that you can start at any time and take in any order and at your own pace. Get done in as quickly as two weeks, or spread them out at your convenience.
Our modern teacher-led curriculum is designed with today's teen in mind. It's filled with interactive games, media, discussion, and quizzes. You never just sit around and read a workbook. The bonus? Our classes are fun! You'll learn more if you actually want to be there.
You are welcome to sign up for classes at all 3 of our classroom locations. We offer classes almost every week of the year at our headquarters in Richfield. And we hold classes periodically throughout the year at Minnehaha Academy (at their Mendota Heights Campus during the school year; at their lower campus in south Minneapolis during the summer), and at Benilde-St. Margaret's School in St. Louis Park. Classroom Schedule.
Behind the Wheel
After completing the classes, you will take the MN Knowledge Exam to get your permit. Then it's time to start our Behind The Wheel program, which consists of 3 two-hour sessions. Don't get tricked by other schools who offer simulator training to replace 2 hours of BTW training. We would never replace real world experience with a computer program.
For BTW sessions we'll pick you up at your house or another selected location (like school). We hire reliable and patient instructors trained to work with drivers of all skill levels. We only select cars that have the highest safety rating, front and side impact air bags, ABS brakes, and traction control. And we use hybrid vehicles to be green and save you money.
We also teach Behind the Wheel lessons to adults learners (age 18+) and teens who completed the classroom portion at another school. And you can schedule one of our instructors and a vehicle to take you to your road test.
Online Student/Parent Portal
Our secure online portal makes it quick and easy to register, track your completed classes, and schedule Behind the Wheel Sessions.
Parent Class
We offer a monthly 90-minute parent class to help you get the most out of your drivers education experience. Teaching your teen to drive can be a confusing time and we want you to have everything you need to be successful.
We will answer all of your questions about how driver's education works. You'll get a refresher on Minnesota driving rules, learn about testing guidelines and Minnesota's Graduated Driver's Licensing Program, and get tips for teaching your teen to be a safe and responsible driver.
Your safety is our goal.
Please check out our FAQ's,